---
Only in Fiji Christmas
Written by Mere Moto on December 7, 2021
Most of the traditions of Christmas that we follow in Fiji is not our own. It is traditions from other countries around the world.
However, we do have things that we do in Fiji that i guess you could call "Only in Fiji" my friends and i came up with 3 major ones. This is just our take on Fijian Christmas.
The Food – There is always so much food around during Christmas especially Lovo. Seems like it is the go-to meal for this time of the year. Not that we complain about the time and effort that goes into making it as we all love our Lovo or at least the majority does.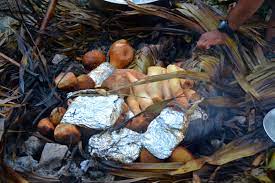 2.  The Family – Yes, family is always a big part of Christmas for us. We're either visiting them or they're visiting us and we're even having gatherings organised. A chance to meet up and catch up. Some even use it as a chance to make the trip to see family in the village that they would hardly get the chance to meet with because of commitments.
3.   The Fun – Of course there has to be Fun. Depending on how old you are and where you are during the holidays this will change. Fun could be organising a family picnic to the beach or the river or waterfall nearby or throwing water on the cousins for the new year. For the more older members, this would be endless amounts of grog because you don't want your tavale's to win and the wash down sessions to end all wash down sessions which is why they happen only once a year. Lot's of merrymaking, loud music and dancing.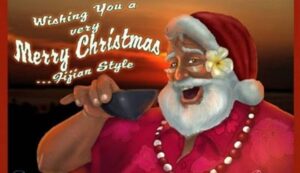 So while we don't have actual Christmas traditions such as Christmas trees, Santa, reindeer and elves we have our own version that works for us.
---
Reader's opinions
---