---
The Man From Nadonumai Who Challenged The Best: Vili Cava Kasanawaqa
Written by Alex Elbourne on October 27, 2023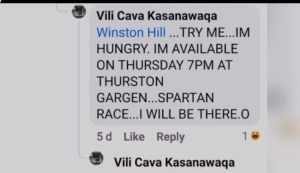 Described as a street brawler by boxing pundits with no ring experience, Nadonumai man Vili Cava Kasanawaqa issued a challenge online to one of Fiji's best boxers Winston "The Real Deal" Hill to go a few rounds in the ring. Unlike others however who have run their mouths online, Mr. Kasanawaqa actually showed up to fight and at Mr. Hills own gym no less. One man walking in to the lions den.
Mr. Osea Nanovu who was the matchmaker had this to say after the sparring session between the two
Power puncher Winston Hill had a go with his challenger in the gym just to clear things out. Their sparring session lasted only 1 round where his opponent Vili refused to go the second round. Winston was just warming up & hope Vili will come back for a rematch on his birthday on the 15th December where he said that Winston is his birthday present .

No guts no glory thats what they say. I believe Vili will come back stronger for the 2nd bout December 15th. Every day we learn to get better in life. Boxing promoters Vili wants to turn professional. Give him a go.
We agree wholeheartedly! While Vili may not have any boxing experience, the video makes it cleat that he has some moves and more importantly, he's hungry. Winston Hill obviously felt the same because a few days after their bout he posted this video
Winston Hill officially inviting Vili Kasanawaqa to train at his gym is what a champion would do. Vinaka Winston and good luck to Vili as he gets to learn from the best. 
---
Reader's opinions
---