---
Coming Soon: The Beatles' Final Song 'Now and Then'
Written by Mere Moto on October 27, 2023
It's been more than six decades since The Beatles started their iconic journey as a band with their debut UK single "Love Me Do" — and now, in 2023, the surviving members are releasing the group's final song together.
"Now and Then" will finally arrive  on Nov. 2  from Apple Corps Ltd./Capitol/UMe, and it marks the last song written by John Lennon, Paul McCartney, George Harrison and Ringo Starr. McCartney and Starr finished the song together, more than 40 years after its inception.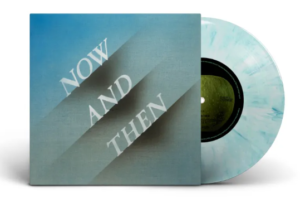 Additionally, a 12-minute Now and Then — The Last Beatles Song documentary film will arrive on Nov. 1. The Oliver Murray-written doc will tell the story behind the track and will feature exclusive footage and commentary from McCartney, Starr and Harrison, as well as Sean Ono Lennon and Get Back director Peter Jackson. Watch the trailer below.
"Now and Then" begins in the late 1970s, when John recorded a demo with vocals and piano at his home in New York's Dakota Building. In 1994, his wife, Yoko Ono Lennon, gave the recording to Paul, George and Ringo, along with John's demos for "Free as a Bird" and "Real Love." Those two songs were released as singles in 1995-96, reaching No. 6 and No. 11, respectively, on the Billboard Hot 100.
In 2022, Paul and Ringo set out to complete "Now and Then." In addition to John's vocal, the song includes electric and acoustic guitar recorded in 1995 by Harrison; Starr's new drum part; and bass, guitar and piano from McCartney, who also added a slide guitar solo inspired by George.
"It was the closest we'll ever come to having him back in the room, so it was very emotional for all of us. It was like John was there, you know. It's far out," Starr said of the process in a press statement, with McCartney adding, "It's quite emotional. And we all play on it, it's a genuine Beatles recording. In 2023 to still be working on Beatles music, and about to release a new song the public haven't heard, I think it's an exciting thing."
And that's not all: On Nov. 10, The Beatles/1962-1966 (often called The Red Album) and The Beatles/1967-1970 (The Blue Album) will be released in 2023 Edition packages by Apple Corps Ltd./Capitol/UMe. The original editions, released in 1973, three years after The Beatles' break-up, reached No. 3 and No. 1, respectively, on the Billboard 200.
Beatles fans and collectores can preorder and pre-save 1962-1966 and 1967-1970 (2023 Editions).
Credits: billboard.com
---
Reader's opinions
---