---
Taxi Story
Written by Mere Moto on January 13, 2022
We all have stories or experiences that we have had with taxis and taxi drivers. Today i had an experience that i am not sure if it would be called funny or weird.
This taxi i got into the driver was having a personal conversation with someone and his phone was on loudspeaker. So there is no guessing what the other person was saying by listening to only one side of the conversation. And no it wasn't that he was already on the call when i stopped him, he had actually dialled while i was already in the taxi. So when i was to get off it took forever to get the change because he was still on the call and had to recount the change. To be honest i just wanted to get the change and get off because i was in a little bit of a rush and he would have short-changed me i wouldn't have known because i was rushing while he was taking his time talking on the phone while counting change.
Oh, it gets better that wasn't even the worst of it.
Turns out he didn't quite short-change me but what he thought was a 10cents coin was actually a New Zealand 20cents coin.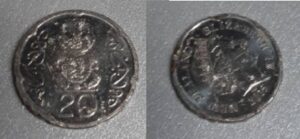 I wonder if anyone has had a similar experience.
---
Reader's opinions
---