---
Rihanna At Super Bowl Halftime Show
Written by Mere Moto on February 13, 2023
Rihanna has been on the down low for about 5years. She burst back on to the scene with her first performace in a few years with the Super Bowl half time show.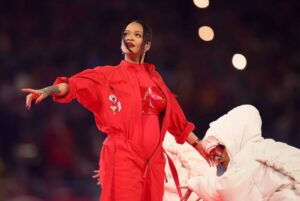 A 13 minutes set with not so many surprises and no other collaborations with other artist but just her reminding everyone of how much of a powerhouse she is.
And she of course is also spotting a baby bump much to a lot of people's surprise.
The super bowl halftime show is a prime slot that lots of artist capitalize on to move them to bigger heights in their carrers.
Credits: rollingstone.com, billboard.com
---
Reader's opinions
---