---
Adventurer Gets A Tattoo Done At Every Country She Visits
Written by Lola Narawa on August 24, 2022
Victoria Rose a globetrotter has a very unique way of remembering every country she's visited.
How so you might be wondering. Well she gets a tattoo done at every country. But hold on I'm not done there's a twist. She gets a random stranger to pick a tattoo for her. Now for me that would pretty much be a big risk. I mean you never know what the person might choose after all its a tattoo we're talking about it stays on for life.
Nonetheless, the globe-trotter loves her tattoos and enjoys the decorations – even though most don't have meanings. "I always like the newer ones cause they are new, but of course, I've gotten some tattoos from scratchers that aren't as good but it's all a part of the journey so I don't hate any of my tattoos," Victoria revealed.
And she's certainly got an impressive collection, as she has tattoos from all over the USA, Ireland, England, Colombia, Peru, Mexico, South Korea, Germany and Egypt.
Rose shows off her tattoos in a series of travel videos on TikTok where fans love to check out her latest additions.
Recent videos show the adventurer strolling through the streets of Seoul, South Korea where she commissioned a colorful dragon for her left leg  tattoo she loves.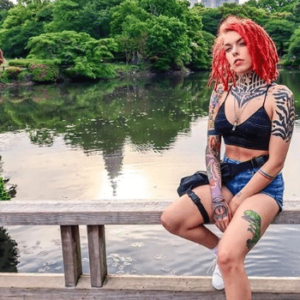 This has got to be the most unique way of keeping travel memories I have ever come across.
---
Reader's opinions
---