---
A queen's Story.
Written by Ella Melake on September 19, 2023
28 year old Samantha Whippy Taylor is a familiar face to those that follow our local pageant competition. The former Miss Levuka Queen was kind enough to share her story from Queen to Motherhood with me.
The young Mrs. Taylor hails from Wainunu, Nakabuta in Bua and has maternal links to Kabara, Naikeleyega, Lau.
Her hobbies include reading, artwork, dancing and tasting different cultural cuisines.
She has 3 brothers and a younger sister, and her childhood was filled with games and so much fun. With siblings that match your energy, there was always something happening.
Mrs. Taylor grew up watching Queens participate in the Hibiscus and admired their poise and grace. She would role play and pretend to be a winning queen in her living room waving at the crowd with a bright smile plastered across her face.  She never imagined that one day, she would be a contender just like the queens she admired and watched.
She was later a contestant at the Back to Levuka Festival where she represented Ovalau. Reputable pageant coach, AK Sharma took her under his wing "I want to thank AK Sharma for helping me find my voice and coaching me during the pageant" she said. A coach that opened her eyes up to the reality of true pageantry.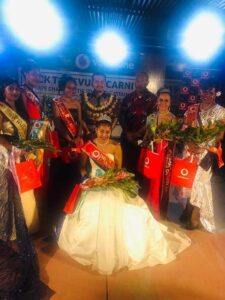 It's not all glitz, glamour, smiles and pretty dresses. "It was an original platform designed for young woman like me to empower and uplift the vulnerable and be a voice to issues that's concerning to our society. I learnt a lot on this journey, and I treasure and appreciate every aspect of it" she shared.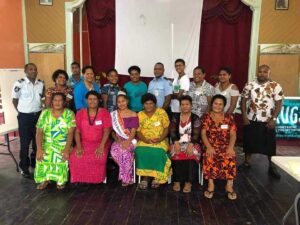 Representing the old capital of Fiji came with its challenges such as resources. "Coming from a small-town municipal was finding the resources and materials we needed for the pageant as well as trying to get sponsors. I'd encourage businesses and individuals to continue to sponsor these events because it helps young people build their confidence and, in a way, they create a ripple of empowering people through their advocacy messages" she said.
Her campaign focused on youths she believes they are at a prime age of decision making. Therefore, they are also very resourceful and if equipped with the right tools and skills will make positive changes in their communities.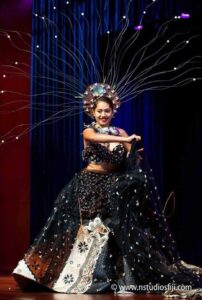 "True beauty comes from within, in my opinion, there should never be a standard or should people conform to the misconception of true beauty being about a person's physical appearance because in my opinion, true beauty comes from within and that kind of beautiful is Authentic".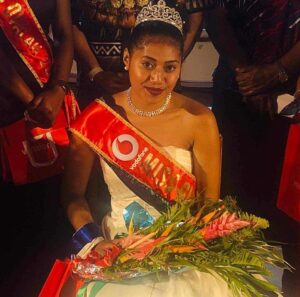 After she was crowned queen, Samantha focused on her campaign and had the privilege of visiting Motoriki. She worked with youths on mangrove planting and educated the people on the importance of mangroves as well as the reality of climate change in the pacific. She also participated in numerous projects within the island of Levuka. She immersed herself in the authentic historical island and its rich history.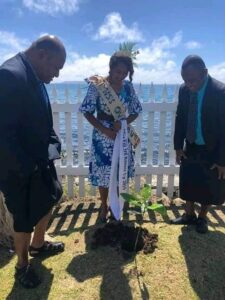 Things took a turn in 2021 as she traded her crown for motherhood. She admitted that she did experience complications and being a first-time mother, she had no idea what to expect. However, to hold her son in her arms was the most wonderful feeling she had ever felt. This opened up a new door for her leading her to yet another new journey.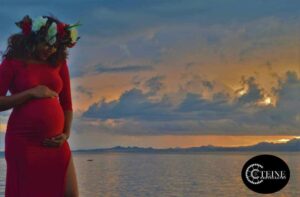 She has had a taste of being a Queen but now, she is a new Queen, one with an heir. She said that mothers are real queens as the post-partum recovery and depression is quite a battle and one that takes a lot of strength to conquer.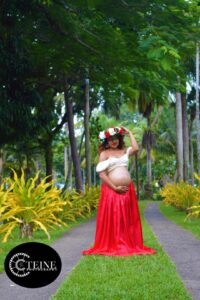 "At the moment, I am enjoying every bit of being a mom from watching my strong boy fight his way through NICU to now trying to fight his little cousins".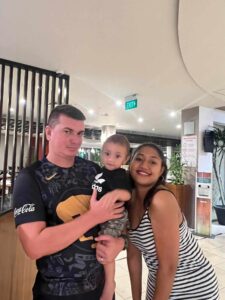 When asked about her views on expectations set forth by society on young mothers, Samantha said  that there will always be expectations and standards set by society especially, with their preconceived notions on the role of a woman. Our culture has evolved from believing that women belong in the kitchen to balancing multiple roles such as mother, wife, employee etc. "It might be challenge as I have walked that path but with the right support group, it's possible to balance all roles of being a wife and a mom as well as balancing a career. "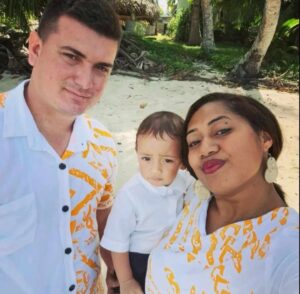 She added that education and modernization has played a big role in this progression.
She shared a very important message to mothers "Keep doing what you do – no one knows what's best for your child like you. Take a break, take a breather and it's okay to not be okay. Just be strong and hold onto the faith that you're doing a good job. Tap yourself for doing a great job and don't be too hard on yourself."
The Taylors are now expecting another bundle of joy to add on to their vibrant family tree.
---
Reader's opinions
---