---
Danish artist ordered to repay museum for exhibiting blank canvases
Written by Mere Moto on September 19, 2023
A Danish artist was ordered to pay just under £57,000 (FJD$160,000) to a museum after giving them two blank canvasses for a piece he called Take the Money and Run.
Jens Haaning was meant to embed the 500,000 Danish Kroner (FJD $163,000) in banknotes he got from the Kunsten Museum in Aalborg into the framed fabric.
Instead, he pocketed the cash and handed over two empty, white canvasses. "The work is that I have taken their money," he told local media.
The 2021 art project was meant to be a statement on salaries in Denmark and Austria but drew a demand from the museum for the artist to return the money it  had given him.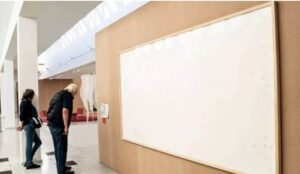 Well they do say anything can be art. So, I guess this artist see's plain canvas as art.
Credits: stuff.co.nz
---
Reader's opinions
---