---
2-Year Old Orders 31 Cheese Burgers
Written by Mere Moto on October 30, 2023
A 2-year-old boy in Texas managed to order a whopping 31 cheeseburgers from McDonald's using his mom's unlocked phone
According his mum, she initially thought Barrett was just amusing himself by taking photos on her phone
In a tale that proves technology and toddlers don't always mix well, a 2-year-old managed to order an astonishing 31 cheeseburgers from McDonald's using his mom's unlocked phone.
Kelsey Burkhalter Golden was taken by surprise when she received a delivery of $91.70 worth of McDonald's, thanks to her son Barrett's curious fingers.
Barrett, who apparently isn't a fan of cheeseburgers, had somehow navigated through the McDonald's app on his mom's phone and placed the order.
The order was delivered to their home, located six miles away from the restaurant.
Golden initially thought Barrett was just playing with her phone, making "roller coaster moves with his arms and fingers."
It wasn't until she received a text from DoorDash notifying her of a delay that she realized something was amiss.
Golden, assuming she had ordered lunch for her other two kids, continued with her day, even informing the school to expect two Happy Meals.
The real surprise came when a DoorDash delivery driver showed up at Golden's doorstep with 31 cheeseburgers.
Golden, initially confused, awkwardly accepted the unexpected bounty.
"So I go and open the door, and there's this girl standing there and she's like, 'Your 31 cheeseburgers?'" Golden recounted with laughter.
Upon checking her phone, Golden discovered that the order was placed at the exact time Barrett was playing with it.
To add a twist to the story, she realized that popular delivery services like DoorDash and Amazon don't require face recognition or secondary security checks.
"He actually doesn't even like cheeseburgers. He ate half of one," Golden remarked, highlighting the irony of the situation.
To deal with the surplus of burgers, she turned to a local Facebook group and generously distributed them to neighbours, a large local family, and even an expecting mom.
Reflecting on the humorous incident, Golden emphasized that Barrett's actions were innocent and attributed the mishap to her forgetting to lock the phone.
So that is an important lesson to us all to lock phones around our little ones.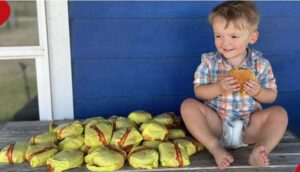 Credits: msn.com
---
Reader's opinions
---