---
WOMAN GETS PARTNERS FACE TATTED ON HER CHEEK AFTER SHE CAUGHT HIM CHEATING
Written by Lola Narawa on November 3, 2022
Getting matching tattoos in a relationship is pretty common. But have you ever thought of getting your partners face tatted on your cheek after you catch him cheating?
No? well that's exactly what this one woman did.  Narall Najm did a bold face portrait of her partner on her cheek after discovering he was cheating on her while she was in labor with their son.
As expected, she received a lot of negative comments and reaction from people. But that has not deterred her. she says people are just jealous. She also stated that she tatted her partners face on her cheek to let people know that even though he cheats he is still hers.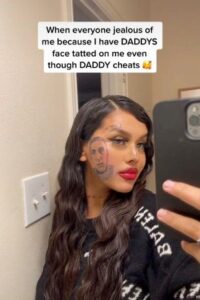 ---
Reader's opinions
---