---
WHEN YOU MAKE A PACT TO NOT GROG THIS WEEK
December is the month of "happenings" lol. So many things to do, so little time. In actual fact, time is not the only thing we lack this month, the biggest culprit that has us crippled most of the time is "money." It's the "mon-tee" that forces our hand more often than not.
This week is the breakup party for my closed circle and in order for us to fully enjoy ourselves the unanimous decision was made that from now till Saturday everyone is to stay home and no one is to instigate a grog session. "NO GROG FROM NOW TILL SATURDAY" is the rule.
And we were doing so well till about 10 am this morning when this happens :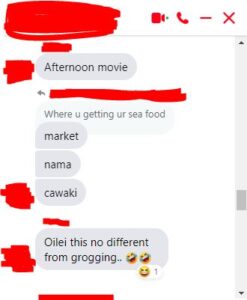 Discussions about seafood lunch and Monday night movies. I guess if we're not spending on grog, it might as well go somewhere useful lol.
---
Reader's opinions
---