---
Sporting Memorabilia – How Do You Know It's Genuine?
Written by Mere Moto on February 28, 2023
The booming sports memorabilia market show no sign of slowing. While collectors are spending thousands – or even millions – of pounds how do they know that they have a genuine piece?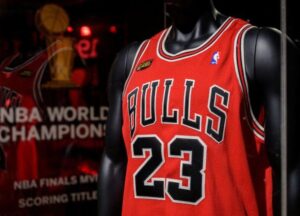 Recently, Michael Jordan's No. 23 jersey from the opening game of the 1998 NBA Finals, fetched the $10.1m (£8.8m) at an auction.
The auctioneers described athe piece as  "a rarefied piece of history", had helped set a world record for an item of match-worn memorabilia with 20 bidders pushing the price up to a record. The initial record of £7.1m was for Diego Maradona's so-called "Hand of God" football shirt. Maradona's family attempted to halt the sale of the Hand of God shirt last year alleging it was not the genuine shirt.
Months, years and decades later, though, how easy is it to confirm a shirt or pair of boots belonged to a particular player and what happens when ownership of an item is disputed?
A shirt said to have been worn by footballer Jim Baxter when Scotland defeated world champions England at Wembley in 1967 was withdrawn from sale by Glasgow auction house after two other parties claimed jerseys they own are in fact the real deal.
Auction houses have to double check on a lot of facts including research on sellers and scientific processes to ensure that what they have is authentic. Altogether, such research leads to "hundreds and hundreds of items" being rejected each week having failed to pass the verification checks.
If anything the sports memorabilia market show no sign of slowing.
Credits: www.msn.com
---
Reader's opinions
---