---
"SHE SCARED ME WITH A CYCLONE WARNING FROM 5 YEARS AGO!!! WAIT WHAT??
Written by Ateca Tukana on March 28, 2022
Our daily check-ins with friends who have become family and now living abroad are one of my favourite things to do in the morning. If there is one thing this pandemic has taught me; it's the value of family and friends and making the most of every minute you have with them. But sometimes there are things that they do that makes you question your relationship. That's what my friend Pat experienced yesterday.
Before we dive into the story that caused my friend a mini panic attack, let me give you a quick back story. My friend Pat (not her real name)  work and schools in Australia and has been bogged down with assignments that she's barely noticed what's been happening past her laptop. Pat has a cousin Jane ( not her real name) that lives in another part of Australia and loves to look out for the family and stay on top of the latest news. We love her she's a gem.
So this morning, Pat sent a screenshot of the conversation between her and Jane. Jane warns her cousin about a possible cyclone in Pat's area and sends the following message out of concern.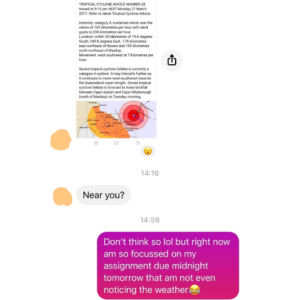 What Pat failed to notice at first glance was that the date of the "cyclone message" was for the year 2017.
And to make matters worst, before Pat came to the realisation that the warning was an old one she was scouring the internet the for the path of the cyclone and the latests update and was getting annoyed when it kept throwing up links from 5 years ago.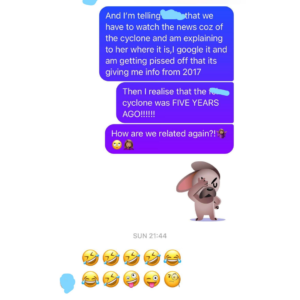 Oh the best part is Jane passed on this information to her mother in law and he mum and they were going to pass on the information to family and friend in Australia, thank goodness that Pat got to them in time. Otherwise a couple of Fijian families in Australia would be panicking around about now. They'd be both panic and confusion.
Lovely isn't it, when your family chooses you. Life is so much more interesting. Guess it's safe to say that both Pat and Jane learned their lesson here and that is to always be present and fact check before you pass on information.
---
Reader's opinions
---