---
Ladies, we all have that one bag that i like to call "our bottomless pit bag" the go-to bag daily that has everything. This bag usually also has lots of pockets and we usually always know what is in all those pockets.
So a friend was using her "bag" a few days ago and was rushing to get things done. While rushing around she got into the car and thought to freshen up a little and put on some perfume. She reaches into one of the pockets she knows has the mini perfume bottle and proceeds to put a little on her wrist and behind her ears. A few minutes later she noticed that she was not smelling her perfume but something else. Turns out the perfume bottle is about the same size as her tiny bottle of medicated oil and was in the same pocket.
I can honestly say that this kinda situation happens to me as well quite often with my bags. It's worse when we decide to change bags.
So advice for us ladies check and re-check or like my friend you may be smelling medicated oil rather than your perfume.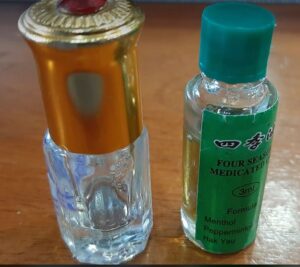 ---
Reader's opinions
---