---
Ilisapeci Movono: Hibiscus Girl 60 Years Later
Written by Alex Elbourne on November 3, 2023
With the Pacific Games beginning shortly, we felt it was fitting to cast our minds back to the first time the nations of the region came together in Suva for the first South Pacific Games (as it was called then) in 1963.
Specifically we'd like to talk about one person who was too young to even take part in the games but ended up the face of the games.  Meet Ilisapeci Rakarawa (now Movono)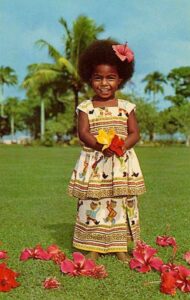 Source: ABC 
Ilisapeci was only 4 years old at the time and her photo was used on postcards and other places for the South Pacific Games. The photo would become iconic and for good reason. Ilisapeci recently sat down with ABC Australia to talk about how the photo came about.
Video: ABC Pacific 
According to a Facebook post from one Vuya Ratabua she described Mrs. Movono's costume as
The now Mrs Movono who hails from Naimalavau Nakelo Tailevu (vasu i Rakiraki Yale Kadavu) had her dress suit or 'sulu jaba' made by her mom especially for this shoot – Too Cute! This was a picture taken as part of a video promotion by ABC Australia for the first ever South Pacific Games to be held in Fiji.
Ilisapeci also featured on a podcast on ABC Pacific and you can listen to that here:
Sixty years on the face of the very first South Pacific Games reminisces about her time as the Hibiscus Girl – ABC Pacific 
---
Reader's opinions
---