---
First Ever Suit Made From Moustache Hair
Written by Ateca Tukana on April 11, 2022
At first glance of the headline, you'd probably think "what on earth is going on here" or "how is this even fashion anymore" but this "Mo- Hair suit" is more than fashion, it's a statement!
It was made in Australia thanks to the joined efforts of visual artist and photographer Pamela Kleemann-Passi, Bullfrog Creative Agency and well-established menswear label POLITIX.
First presented on Australia's The Today Show, the unique garment was created to celebrate Movember 2021 and designed to be a conversation starter on men's health issues, both mental and physical.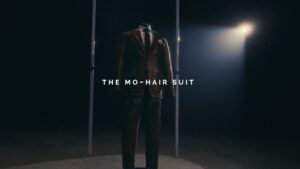 "The suit has just won Gold at the Spikes Asia award for Health," Andrew Vance, Social PR & Events Manager for POLITIX, declared. "In the second week of March 2022, the 'Worn to be heard' Mo-Hair Suit Showcase was an official event of the Melbourne Fashion Festival."
"Why do we need to talk about men's health" you may ask. Globally, men die on average six  years earlier than women, from largely preventable causes such as suicide, prostate cancer and testicular cancer.
The suit, in particular, is made thanks to the help of men who have lived these issues on their skin.
First, collaborators who had been affected by mental health or physical issues autonomously mailed their hair for this project.
Then, the remaining amount of moustache hair used for the 'Worn to be Heard' 2021 campaign was sourced from Sustainable Salons, an Australian social enterprise that reuses 95% of the hair that would otherwise be tossed in salons' bins.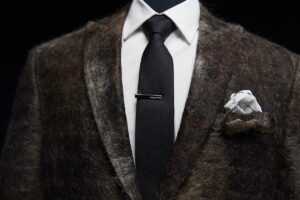 However, men's facial hair wasn't the only thing included in the fabric – the contributors' quotes have been included, too.
Quotes from the donors have been printed into the suit's lining, together with a message from Kleemann-Passi herself. The use of the quotes and hair created a unique piece 'worn to be heard'.
On the other hand, the process of creating the outside of the record-breaking suit consisted in layering contrasting shades of hair between panels of black cotton and fine tulle.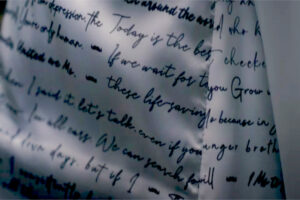 ---
Reader's opinions
---