---
Facebook memories, basically show things you posted on the same day from years ago. I gotta say sometimes it's good and sometimes they are not so great and we wish for the memories to not see the light of day ever again.
This is one of those that I loved because it shows how things were 2 years ago.
Today i was in town though it was quite full people were really moving from point A to Point B. Greetings were not as carefree and happy as they usually were. You could sense that things were not quite as normal with people walking around in masks a big reminder of what we have been through and still dealing with.
So today i was thankful to FB memories for reminding me of what our normal was back then.
Wishing you and your family a Merry Christmas and may 2022 be a better year for all of us.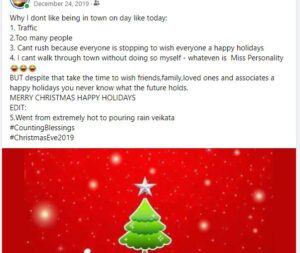 ---
Reader's opinions
---