---
Adele acknowledges teacher in reunion. Wonder if some of us do as well.
Written by Mere Moto on November 24, 2021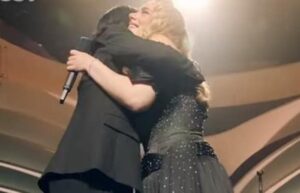 Adele was a surprised person when as part of a show ITV concert special, "An Audience with Adele,"  she was told that her former teacher was amongst the crowd.
As part of the show, there was a pre-recorded segment where there was a question from Hollywood actress Emma Thompson, who asked whether there was anyone in her past who had supported her, inspired her or protected her from life's trials and tribulations. She spoke of Ms. McDonald, her English teacher at Chestnut Grove Academy.
"I had a teacher at (south London high school) Chestnut Grove, who taught me English. That was Miss McDonald… She got me really into English literature. Like, I've always been obsessed with English and obviously now I write lyrics."
"She was so bloody cool. So engaging," Adele added, recalling that McDonald often wore sequins and gold bracelets. "She really made us care, and we knew that she cared about us."
So imagine how surprised she was when she was told that her former teacher who she hasn't seen for 20years was in the crowd. It was a happy and tearful reunion, tears of joy of course.
"I'm so proud of you," McDonald said as Adele cried tears of joy.
During their exchange, the "Easy On Me" hitmaker told McDonald: "You really did change my life."
So while I was reading about this I wonder how many of us acknowledge and thank our teachers after years.
I remember a few years ago I met my primary school teacher. So I saw her from a distance and decided to go and say hello to her. To my surprise all those years later she still remembered me by name. She said hello and my name without missing a beat. We spent a few minutes talking and it just gave me a good feeling to have reunited with her years later and she still remembered me even though she was getting on in age.
I jokingly told my friend for her to remember all these years it is most likely i was either a very good student or one that was naughty that totally unforgettable.
Reckon we should take the hint from Adele and acknowledge our teachers when we get the chance.
---
Reader's opinions
---