---
February 13th was adopted by the UN General Assembly as an International Day and the first World Radio Day was celebrated in 2012. According to UNESCO, radio continues to be one of the most trusted and used media in the world, according to different international reports.
The theme for 2022 World Radio Day is  "Radio and Trust".
A lot of us grew up around the radio and we all have our radio stories. I for one have quite a few to share. However, there are two radio stories that stand out for me.
The first was one that was shared to me by my mother. According to her, i was an easy child growing up. All she had to do was put a radio next to me and i was lost in the radio world. She would complete all her house chores and i would be still lost in my world of listening to the radio. It is probably where i was first bitten by the radio bug.
Fast track to a few years later when i was in high school i got a gift of a 5 CD changer mini hi-fi system. It was my most precious possession. So you can imagine how i felt the day i got back from school to see it was gone. Turns out while the house was empty someone broke in and stole the radio. It was my first heartbreak.
Then fast track to years later i walked into my first audition to be a radio personality the rest as they say is history.
I am one of the lucky ones to have worked in both commercial and community radio stations. Giving accessibility of information to everyone as well as providing entertainment.
Happy World Radio Day.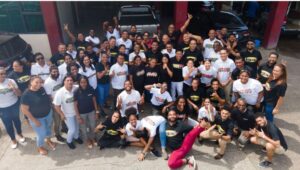 PC: fijivillage.com
---
Reader's opinions
---