---
Hana Horka: Czech singer dies after catching Covid
intentionally
Why would anyone catch COVID on purpose?!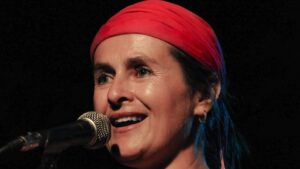 Hana Horka, 57, was unvaccinated and had posted on social media that she was recovering after testing positive, but died two days later.
Her son, Jan Rek, said she got infected on purpose when he and his father had the virus, so she could get a recovery pass to access certain venues.
She had posted two days before her death that she was doing well, "Now there will be theatre, sauna, a concert".
On Sunday she got ready to go for a walk but her back started hurting so she decided to go and have a lie down, 10 minutes later it was all over said her son "She choked to death".
Although she was unvaccinated, Jan Rek stressed that his mother did not believe in some of the more bizarre conspiracy theories about Covid vaccines.
"Her philosophy was that she was more OK with the idea of catching Covid than getting vaccinated. Not that we would get microchipped or anything like that," he said.
May she Rest in Peace and her family find comfort in the memories of her.
---
Reader's opinions
---