---
New York City is slowly sinking according a  study published by the scientific journal Earth's Future.
The research highlights that the city that never sleeps might be descending due to the high density of buildings.The study, which has been shared by The New York Times and The Guardian, points out that this situation has been worsened by climate change and rising sea levels.Researchers calculated the weight of the over one million buildings that are spread across the five boroughs that make up The Big Apple.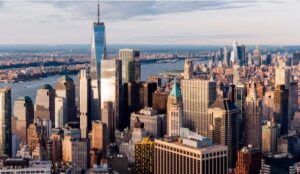 CNN explains that, according to their conclusions, New York weighs about 1.68 trillion pounds (762 billion kilograms), give or take a hot dog vendor.These types of studies are nothing new. According to The Guardian, the water level around New York City has risen 9 inches (22 centimeters) since 1950.Meanwhile, The New York Times reports that the city that never sleeps sinks between two and four millimeters (three-twentieths of an inch) every year.
It might not sound like much, but The New York Times warns that it makes the city more prone to natural disasters, particularly when paired with climate change.The Big Apple is hardly the only iconic city that is in danger of sinking under its own weight.CNN cited a September 2022 study published by Nature that shows that 44 out of the 48 most populous coastal cities around the globe are facing similar problems.Some of these cities include Houston, Istanbul, Lagos, Manila, and Ahmedabad.
Moving cities is an option and thoughts to limit people but really it is only a matter of time.
Credit: msn.com
---
Reader's opinions
---