---
Receipts are proofs of financial transcastions. Something that we all have. Even when we get on the bus we get a receipt after we swipe our bus cards.
Today i decided to go through my wallet and take out receipts that i didn't need. And i tell you there were so many.  I am one person that just collects the change and receipts and dumps everything in my wallet. Even my bus receipts i keep in my wallet.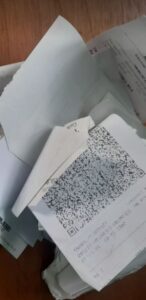 I honestly didn't realise how many receipts i had from groceries to bottle shop receipts and my bus receipts that date back a few months.
According to a friend plenty receipts means plenty money.
I only wish that were true. It is actually a habit i developed that i keep receipts in case i need them for refunds or something.
---
Reader's opinions
---