---
P!nk Clarifies That She Doesn't Fly Any Country's Flags at Her Shows After Receiving Threats: 'I Am Human. I Believe in Peace'
Written by Mere Moto on October 17, 2023
P!nk said she has mistakenly been dragged into the heated rhetoric surrounding the war between Israel and Hamas because of mistaken information about elements of her live show.
"This post will be controversial for some. At this point, breathing is controversial. I am getting many threats because people mistakenly believe I am flying Israeli flags in my show. I am not," the singer explained in a post on Sunday (Oct. 15).
"I have been using Poi flags since the beginning of this tour. These were used many, many years ago by the Māori people in New Zealand and because they and the Māori people are beautiful to me, we use them," she explained, adding that, "I do not fly flags in my show in support of anything or anyone except the rainbow flag. That will remain my position."
According to media reports in New Zealand, the images of P!nk's dancers flying blue and white "poi" flags on long poles are similar to those on YouTube of "flag poi spinning" in which users spin around while waving pieces of colorful cloth tied to flexible sticks; the segment of the show in question has been part of P!nk's Summer Carnival Tour since the beginning of June, months before the armed wing of Hamas invaded Israel in a terror attack.
"I am human. I believe in peace. Equality. Love," added P!nk. "I am deeply saddened by the state of the world. I pray for all of us."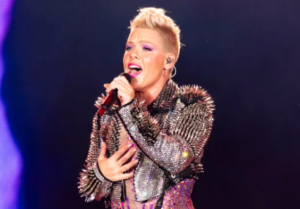 Credits: billboard.com
---
Reader's opinions
---