---
Kim Kardashian's Belly Button is Missing!! Wait What?
Written by Ateca Tukana on April 28, 2022
Kim Kardashian has been called out for yet another photoshop fail on Instagram.
It seems like there is no amount of money in the world that is able to buy a quality photo editor for this social-media dependent family, as Kardashian is being accused once again of poorly altering her photos.
Underneath the microscope this time is an Instant photo of the Skims founder standing poolside her "skim" bra and sweatpants.
When fans gave the picture their eagle-eyed vision, they noticed Kardashian, 41, does not appear to have a belly button.
"You forgot to leave in your bellybutton!" commented one follower.
"Where on earth is your belly button, yo??" asked another.
"Belly button Missing???" echoed another.
One fan even appeared to want to kick off a movement with the hashtag "#WheresKimsBellyButton."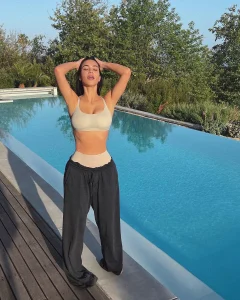 I reckon everyone is just over exaggerating, cause clearly her bellybutton is covered by the "Skims" high waisted underwear. Honestly, will Kim Kardashian ever catch a brake?
---
Reader's opinions
---