---
'I won £4 million on the lottery, but my family aren't getting a penny of it'
A man took to Reddit to tell his story about how his family CUT him off because he wasn't going to share his $4 million dollars lottery winnings with them.
An anonymous 24-year old says he and his wife buy a lottery ticket every month. Now one month he and his wife got LUCKY. Like $5.6million dollars lucky. After a lump sum and taxes, they were left with $5.6million dollars. They then paid off their student loans, mortgage, and car finance and were left with about $5 million dollars.
"In case you don't know 70 per cent of lottery winners go broke after a few years," he continued.
With his job being in the financial sector he said he wouldn't be part of that 70 per cent.
After he won he told his family and he thought they would be happy for him and his wife. They started planning a family trip and how he was going to pay off their debts.
So he told them he wouldn't be giving them any of his money. He went on: "I explained 5 million is a lot but not enough where I will be giving it away to family and they got p***ed.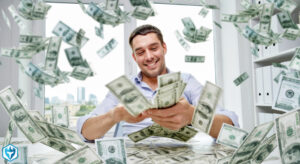 Do you think he made the right call?
---
Reader's opinions
---