---
I Am Legend Sequel in the Works
Akiva Goldsman's upcoming sequel to 2007's I Am Legend is taking cues from the popular HBO series The Last of Us, and will start a few decades later than the first. Goldsman is also working with the 1954 novel of the same name by Richard Matheson, which explores the end of man's time as the dominant species.
Last March, Smith, 54, told Entertainment Tonight he never planned to make an I Am Legend sequel until he heard the idea for the new movie.
"It was one of those ones I was gonna leave alone, and then I heard the idea," he said at the time, adding that he thought to himself: "That might work. I think we can do that," after hearing a pitch for the film.
"I can't talk about it yet, but it's a really, really cool concept and [Jordan] was a part of creating the idea," Smith added.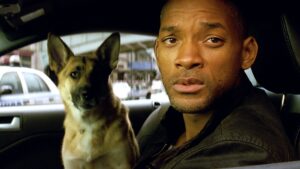 ---
Reader's opinions
---