---
Driver crashes rare USD$3m Ferrari 275 GTB into a fence
Written by Mere Moto on October 31, 2023
We've all had one of those days where you duck out for a quick trip to the supermarket or the shopping centre and, often through no fault of your own, your innocent drive morphs into something disastrous.
Although, few of us could possibly claim to have bungled our trip to the shops as much as one particular motorist in Italy earlier this month.
Italian news outlet IlPiacenza has reported that a 60-year-old motorist crashed a multi-million dollar, limited edition Ferrari 275 GTB – a car with a current value in the ballpark of US$3m.
According to reports, the driver lost control of the classic Ferrari whilst leaving a shopping centre, spinning into a dirt bank and a fence. The crash happened at enough of a pace to rip fence-posts out of the ground, and leave the Ferrari with a heavily bruised front end.
Thankfully, it appears that the Ferrari in this latest wreck is reasonably salvageable. It appears that the front fascia, right fender, and right-headlight (missing its lens) took the brunt of the damage.
With a trip or two to its nearest Ferrari expert (of which there will surely be plenty in Italy), it will hopefully be restored to former glory in no time.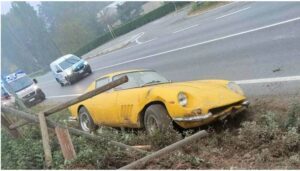 Credits: stuff.co.nz
---
Reader's opinions
---