---
Christmas trees are yet another tradition of Christmas that we adopt from other countries but it has become a part of the things we do around this time of the year. Let's be honest we're more of a put the lights on the mango tree or coconut tree or whatever tree was outside kind.
For me, i always like DIY Christmas trees. It is one that allows for creativity and thinking outside the box and it also makes use of whatever resources that we have available. There is also a financial factor as you don't get to spend a lot of money on a tree and usually becomes a great activity to involve everyone in putting the tree together.
Today i came across some friends all sitting on the floor with a couple of cardboard rings and string.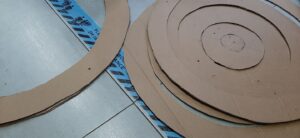 I took one look at it and i asked them " Is this your ring Christmas tree" let's just say that they took some offence to that question and i had some colourful words come my way.
However, i gotta say they were on to something and though their tree is not complete yet it is up and hanging and waiting to be decorated. That's a whole lot better than me who still does not have a tree at my place.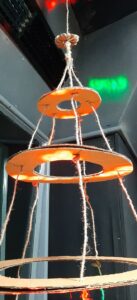 What do you think of this tree?
For me though it is not complete i reckon it is already a very nice tree.
---
Reader's opinions
---