---
Beyoncé Shouts Out 'Queen' Madonna During New Jersey Renaissance World Tour Show
Written by Mere Moto on August 2, 2023
Though Madonna's 40th anniversary Celebration dates in the U.S. have been postponed due to the serious bacterial infection that landed her in a New York ICU last month, the singer made it out to Beyoncé's show in New Jersey  in one of her first public appearances since the hospitalization.
Video posted by fans showed the 64-year-old legend enjoying Bey's show at MetLife Stadium in East Rutherford, NJ. In fact, Queen Bey noticed her special guest as well and during a run through "Break My Soul" she even gave her fellow royal some love from the stage.
"Big shout out to the queen," Beyoncé said while working the stage during the song that got a "Queens Remix" last year featuring vocals from both powerhouses in their first official collaboration. "Queen Mother, Madonna, we love you," Bey said in a performance that also slid in a nod to Madonna's iconic 1990 club track "Vogue."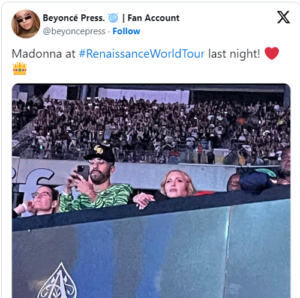 Madonna's manager, Guy Oseary, announced last month that the singer had spent several days in intensive care due to a "serious bacterial infection."
Madonna wrote a note to fans thanking them for their support during this difficult period. "Love from family and friends is the best Medicine. One month out of the hospital and I can reflect," Madonna said.
"As a Mother you can really get caught up In the needs Of your children and the seemingly endless giving," she added. "But when the chips were down my children really showed up for me. I saw a side to them I had never seen before. It made all the difference."
Beyonce continues her Renaissance World Tour.
Credits: billboard.com
---
Reader's opinions
---