---
Today my friends and I after training decided to get our lunch and find a place along the seawall near Laucala Bay and enjoy our lunch as it was a beautiful day today.
Few minutes later a young girl about 10years old came along the footpath with a container that had something she was selling. It was pineapples in mango skin powder. We bought a few and also asked her a few questions.
First, we asked her who she came with. She responded that she came with her mother and pointed in the distance. The woman we figured was her mum was about 100m or so away and also had two young boys with her.
This situation got me thinking
I admired the little girl helping the mother and family to help provide for her family.
I was also worried for the little girl. My friends and i got talking about everything that is happening we never know what could happen with the mother being 100m or so away and with two other boys to worry about.
So to us parents. guardians and adults let us look after our little ones well. With everything that is now happening from missing persons to bodies being found and adding to the situation the pandemic, we are still facing we really do not want anything to happen to our little ones.
All it takes is a few seconds for something to happen.
So while we can let us ensure that our family members and loved ones especially the little ones are safe. With the festive season coming up especially let us be safe. May seem a little paranoid.
But it is best to be paranoid and safe rather than something happening and we ask WHAT IF?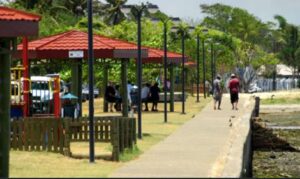 PC: Pacific Travel Guides
---
Reader's opinions
---