---
'The Monkey That Stole A Bus'. A book written and illustrated by an 8 year old author who dreams of raising enough money to buy himself a new set of wheels
Young author and illustrator Alfie Dormand suffers from a rare genetic disorder called L1 Syndrome and a related condition known as Hydrocephalus, both of which affect his mobility.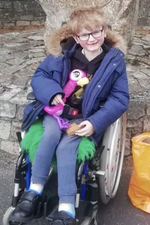 Alfie came up with the idea of writing the book when his mom took him to the zoo. Michelle Dortmund mother of the young author hired an electric wheel chair on the day of the trip to help her son move around and from that day on, the young author has been dreaming about getting his very own wheels.
Through sales of his storybook on Amazon and donation via his "Just Giving page", Alfie managed to raise over £1000 towards the costs of the new electric £3000 wheelchair – which would give him greater independence than his current manual wheelchair.
Alfie had previously ventured into the world of writing when he wrote 'The Crocodile's Day Trip' at the age of just six.
Teachers have been reading the book to fellow pupils at Alfie's school, St Mewan Primary in St Austell and parents have also been purchasing the book to support the budding authors fundraising efforts – with Alfie even signing books like a professional.
Eddie Hall, the world strongest man found out that he was also featured in the book and without having any second thoughts he purchased the book and together with that he sent a video to the young author praising him and thanking him .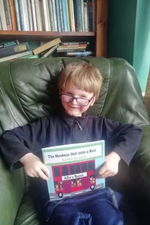 ---
Reader's opinions
---