---
WORLD'S THIRD HIGHEST-PAID FEMALE ACTRESS RIDICULED FOR WEIGHT
Written by Ella Melake on October 18, 2023
Melissa McCarthy is a familiar face to comedy lovers all over the world from her hilarious cameos in Bridesmaid to her superhero experience in Thunder Force.
Successful as she may be she was constantly being called names and attacked for her weight. She responded to the criticism gracefully, but she never lets anyone walk over her. Her husband always supports her by praising her for how wonderful she is.
Despite constant bullying and criticism, Melissa McCarthy was one of Hollywood's highest-paid actresses in 2015. Her solo movies during that time made her one of the most recognizable female actors. The actress also tried her hand at directing.
Amid her success, McCarthy stayed humble. She opened up about her success and said she's just happy to have work as an actress. She admitted that acting is generally a highly competitive industry, and making it big is often difficult, if not impossible.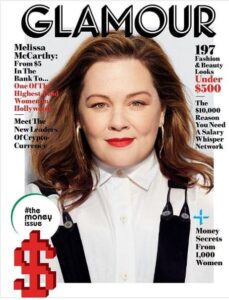 Despite being the world's third highest-paid female actress, according to financial profiles, McCarthy's weight has been judged by fans and critics alike. The actress responded by questioning why so many women in the public eye are being evaluated in terms of their physical fitness while the same standards don't apply to men. When a critic noted she had lost weight, she replied:
"I have, but I'll be back again. I'll be up, I'll be down, probably for the rest of my life. There are so many more intriguing things about women than their butt or their this or their that. It can't be the first question every time, or a question at all."
McCarthy also hopes to inspire women and build them up, since so many things try to bring them down. The actress started an all-sizes clothing brand to help women feel more comfortable in their own skin. She believes in loving yourself the way you are.
Source: https://paulownias.ch/despite-facing-cruel-and-hurtful-ridicule-from-a-critic-who-stooped-so-low-as-to-call-her-names-like-hippo-and-tractor-sized-melissa-mccarthy-found-unconditional-love-and-support-in-her-husba/?fbclid=IwAR0jdKLs1zKZRJxaSamYzIEBgHcrRKQ2mEnhB_h7kgHlXlNKr0SoDzmaKtA
---
Reader's opinions
---