---
WOMEN GETS SURGERY TO SHORTEN HER TOES
Written by Lola Narawa on December 21, 2022
In this day and age cosmetic surgery has become some what of a norm. You mention have cosmetic surgery done and no one even bats an eyelash.
Feet can come in many shapes and sizes and it's not always easy to accept what we were born with. One woman, who has struggled with her long toes for a long time, decided to take matters into her own hands.
You've heard of Brazilian butt lifts and tummy tucks, but did you know you could have cosmetic surgery to shorten your toes?
A woman by the name of Athena had surgery to shorten her toes  .In another video she said: "My toes were a big insecurity for me for as long as I could remember. So I decided to gift myself this Christmas some new toes. I'm so happy with the results. Best decision I could have taken."
Below is the before and after picture that Athena shared on her social media account.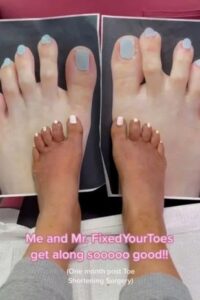 ---
Reader's opinions
---