---
What is King Cake? History and Meaning of the Mardi Gras Tradition
Written by Lola Narawa on May 17, 2022
A king cake is a wreath-shaped cake that's similar to a Danish pastry and traditionally made of brioche, flavored with cinnamon, and embellished with a frosted glaze and gold, green, and purple sugars. Collectively, these shades are the official Mardi Gras colors , and each one of them has a specific meaning. Gold stands for power, green represents faith, and purple represents justice, and overall, the cake symbolizes the unity of faiths. Bakers may offer a choice of fruit or cream cheese fillings and sometimes top it with Mardi Gras decorations. It also comes with a tiny plastic baby hidden inside of it, but we'll get to that in a moment.
While king cake traditionally is eaten during Carnival season (from January 6 through Fat Tuesday, the day before Lent begins), you can probably get your hands on one whenever you get a craving.
Why is there a baby in the cake?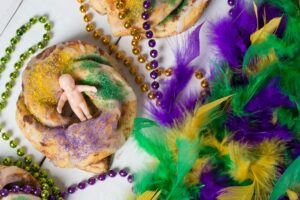 To explain this quirky tradition, let's start with the king cake's origins. This dessert is associated with a Christian holiday called Epiphany, also known as the Three Kings Day, which falls on January 6 every year. It commemorates the story of the three wise men visiting the baby Jesus. This might lead you to believe that the baby is supposed to represent the baby Jesus, but this isn't necessarily the case—or at least it didn't start out that way.
According to some sources, in the late 19th century, a New Orleans social group called the Twelfth Night Revelers started the custom of hiding a bean inside the cake. Whoever found it in their piece of cake would be crowned the king or queen of the Mardi Gras balls. Later on, the bean was changed to a baby. Donald Entringer Sr., a baker who operated McKenzie's Pastry Shoppes in Metairie, Louisiana, is credited with starting this tradition in the 1940s. Entringer was asked by a Carnival krewe to produce king cakes containing prizes. Through a friend, he came across tiny plastic babies from a shop and got approval from the health department to add them into his king cakes.
Pretty interesting origins for a cake right!
---
Reader's opinions
---