---
What is exactly is Bubble Tea?
Written by Lola Narawa on February 26, 2022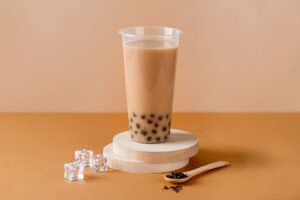 Classic bubble tea is black tea brewed with milk and sugar, then poured over ice and tapioca balls. But it can come in an array of other delicious flavours, using a base of everything from green tea, chai-tea or other loose-leaf teas, to fresh fruit juice, and featuring fun toppings like mochi.
With the added fun of slurping up sweet and chewy tapioca balls through a colourful fat straw, bubble tea is like a beverage and dessert combined into one aesthetically pleasing treat. For those who haven't been inducted into the bubble tea fan club yet, it's an absolute must-try.
Invented in the tea houses of Taiwan in the '80s, bubble tea has had a comparatively short history when you consider the centuries of tea drinking in Asia. You'll find it under a few names: bubble tea, boba, boba naicha, and milk tea. Boba begins with a tea base—black, green, matcha, or some other pick—that's then combined with milk and sweetener. Ingredients differ from one restaurant to the next, but many offer bubble tea made with plant-based milk like almond and coconut.
The drink is crafted by ladling tapioca balls (more on those in a minute) into a cup and pouring the sweet, milky tea over the top. Some shops use a machine to seal the cup with heated cellophane so that it's easy to tote around without spillage. When you're ready to sip, simply stick the oversized straw through the cellophane "lid.
Drinking bubble tea is an experience. As the tea flavours dance along your tongue, you can chew the sweet tapioca pearls. When you do, you'll instantly understand why so many people love the drink: It's a super-fun and addictive combination, with the bouncy, springy texture reminiscent of mochi or candied jellies. Most bubble tea shops allow you to customize ice levels and sugar levels. If you want more bang for your buck, you can request less ice, but it may not be as refreshing. And while boba is typically served as a cold beverage, you can also choose to order it piping hot to warm your bones on cold days.
---
Reader's opinions
---