---
What Are Cheese curds?
Written by Lola Narawa on April 7, 2022
Cheese curds are little chunks of white or orange cheese that haven't gone through the aging process. Think of them like the younger siblings to the blocks of aged cheese you buy at the store. The majority of cheese curds are made from cheddar, although it's possible to make them from other cheeses, like Muenster and Colby.
For many Wisconsin restaurants, curds are more than a menu item. "We compete against each other—who has the best cheese curd or the best presentation?" says Mike Doble, proprietor of the Explorium Brewpub, which serves its beer-battered curds with carrot and celery slices and ranch dressing. "It's a matter of pride. If you're going to be a Milwaukee brand, you want to have cheese curds on your menu."
Cheese curds are enjoyed by Midwesterners in the US as a snack and also appetizer at roadside restaurants and also at fairs and carnivals.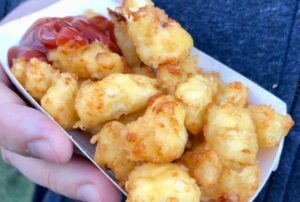 Looking at this picture I would definitely love to try cheese curds.
---
Reader's opinions
---