---
The Origins of the Easter Bunny
Written by Lola Narawa on March 16, 2022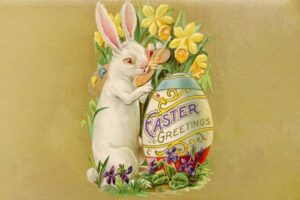 As soon as someone mentions Easter the first thing that pops into my mind is the Easter Bunny. Now how exactly did this furry creature become tied up with this Christian Holiday well let me give you a brief summary. While there isn't any historical documentation that explains how a rabbit became the "furry" face of Easter, the most obvious connection may be the calendar. April showers not only bring spring flowers but the birth of baby rabbits. Both springtime and bunnies are iconic symbols of birth and renewal. "Rabbits (originally hares) are longstanding fertility symbols.
In fact, the Easter egg has more historical context than the Easter Bunny, in that eggs may have been part of the Passover Seder plate at the last supper, as it still is today. "We don't know for sure, but later Jewish sources firmly incorporate the egg in the Passover ritual,"
We all know Santa lives at the North Pole, but the Easter Bunny's homestead is shrouded in mystery. Trackeasterbunny.com believes the Easter Bunny lives on Easter Island, a remote Polynesian island in the Pacific. Reportedly, the Easter Bunny departs from Easter Island on Easter Eve to deliver gifts and candy all across the globe. Easter Island is also said to house magical animals who serve as the Easter Bunny's loyal helpers, similar to the elves in Santa's workshop.
Wow, all this time i thought the Easter Bunny Had something to do with Easter. Well, it seems like the Egg has more Symbolism. Well we do learn something new every day.
---
Reader's opinions
---