---
The Final Presentation and True Highlight of the oscars
Written by Lola Narawa on March 29, 2022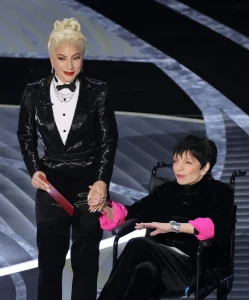 Everyone is so focused on the Will Smith and Chris Rock incident that the true highlight of the Oscars night was overlooked.
What was this you may ask it was the moment of the final presentation which was done by Lady Gaga and Liza Minelli.
The "Chromatica" singer, 36, and the legendary "Cabaret" star, 76, took the stage together to present the final award of the night: best picture, which went to "CODA"
Now the legendary Liza Minelli is now in a wheelchair after being diagnosed with a disease called encephalitis in October 2000.
This disease, which is also known as an inflammation of the brain, can cause movement disorders, seizures, and sensitivity to light and sound.
As a result, she was advised to use a wheelchair.
A moment later, when Minnelli appeared to have a little trouble reading the teleprompter, Lady Gaga had her back, helping her finish her line.
"We're going to tell you who the nominees are right now," Lady Gaga said with a smile.
Then she leaned down to Minnelli and whispered, "I got you."
"I know," Minnelli was heard whispering back. "Thank you."
That was such a heartwarming moment at the Oscars that people overlooked due to the Smith and Rock incident and i think it deserves to be talked about more than that drama.
---
Reader's opinions
---