---
Sylvester Stallone and Arnold Schwarzenegger 'couldn't breathe the same air'
Written by Mere Moto on June 22, 2023
Believe it or not Sylvester Stallone and Arnold Schwarzenegger were initially not as friendly to each other as most of us would have thought.
In an interview Stallone said "We really disliked each other immensely because we were… this may sound a little vain, but I think we were pioneering a kind of genre at that time and it hasn't been seen since really. So the competition, because it's his nature, he is very competitive and so am I… and I just thought it actually helped, but off-screen we were still competitive and that was not a healthy thing at all, but we've become really good friends."
The competition was so that they would trick each other and were just so competitive
"Yeah, yeah. I mean, we would do anything to derail each other and it was all kind of in the spirit of competition. He's a very competitive person, so am I. So when you compete, competition creates performance," says Schwarzenegger.
Who would have thought that these two were fierce competitors before becoming real good friends.
Credits: forbes.com, msn.com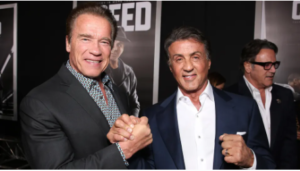 ---
Reader's opinions
---