---
Milk and Cookies
Written by Lola Narawa on March 15, 2022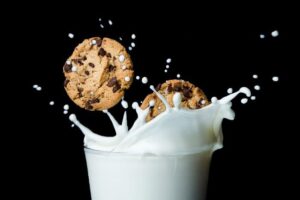 Nearly everybody loves Milk and Cookies. I mean what's not to like you got your nice cool cup of Milk then add some cookies bam heaven.
There's no clear answer on who the first person was to dunk their cookies in milk but whoever they are, we surely thank them. However, we can trace back the act of dunking itself. It's believed to have started with the Romans, who dunked hard wafers in wine to soften them. Dunking is also believed to have been popular with sailors in the 1500s. Apparently, sailors were given very hard crackers to live on during long trips, which they dunked in coffee or brine to soften up.
We can also trace back a popular Christmas tradition involving milk and cookies, though not quite as far. Turns out, the tradition of leaving milk and cookies for St. Nick started back in the 1930s during the Great Depression. It was a way for parents to teach kids to show gratitude for gifts, even during hard times.
I'll take Milk and Cookies any day over anything
---
Reader's opinions
---