---
MAN WITH EXTREME BODY MODIFICATIONS BANNED FROM RESTAURANTS
Written by Lola Narawa on January 25, 2023
Anthony Loffredo, who is also known as the Black Alien Project, has dramatically altered his body to fit an alien aesthetic – including removing his ears, nostrils and some fingers. The Frenchman often gets stared at in public but has previously said how his look stops him getting jobs.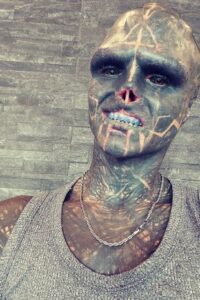 Loffredo has stated that now some restaurants wont let him eat in or will hide him away. As they are afraid of what their other customers will think.
The 33-year-old stated in an interview "If I want to eat at a restaurant, sometimes the server says I can't eat on the terrace." Anthony is covered head-to-toe in tattoos and changed the shape of his face but he now says he has come to terms with those who are "close minded".
He believes "that's how it will be for all of humanity" and has taken to body modification because he felt he was born in a body he didn't belong in.
---
Reader's opinions
---