---
MAN GOES HIKING WEARING A 3 PIECE SUIT
Written by Lola Narawa on March 27, 2023
An adventurer has gone viral for bringing a new meaning to the phrase 'business as usual' after climbing a mountain in a suit – just to prove he could do it.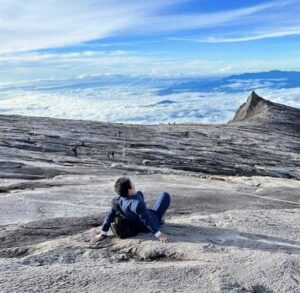 All eyes were on Nobutaka Sada, 49, when he reached the summit of Malaysia's tallest peak, on Wednesday.
Unlike other hikers, the Japanese tailor ditched the usual attire you'd expect to see when tackling Mt. Kinabalu. Instead, he scaled the peak wearing one of his brand's custom-made suits, before showing off the design 4,095 meters above sea level.
Understandably, people were shocked to see Sada taking on the challenge, with a messenger bag in tow, and footage from his climb quickly circulated online.
It's not the first time the brand's founder has gone to extreme lengths to promote his products either. The dedicated tailor has also previously gone skiing, fishing, and scuba diving wearing his brand's creations, as captured on his YouTube channel where he documents his adventures.
It sounds like his approach is working too, as Sada revealed he was recognised from TikTok on his way home when a fan spotted him wearing the famed suit he wore to complete the climb.
---
Reader's opinions
---