---
Lavish Restaurant Hiring Grape Feeders
Written by Lola Narawa on October 5, 2022
A new extravagant restaurant in London is looking for a 'grape feeder' to join their team – but applicants have a strict criteria to follow. The brainchild of billionaire restaurant tycoon Richard Caring, Bacchanalia is set to open later this year in Mayfair. The restaurant's current job ads includes the unusual grape-feeding role where prospective employees will need 'gorgeous hands' as well as a 'basic grasp of Greek and Latin' in order to fit in with Bacchanalia's grand aesthetic.
Solidifying its high-end status from the offset, the eatery aptly borrows its name from a lavish Roman festival that celebrated excess and was known to be a wine-fueled, raunchy affair.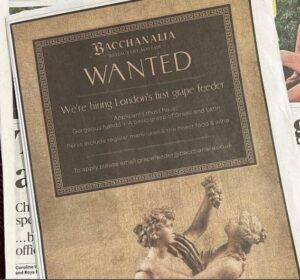 The job poster even exudes luxury, as the text sits on a gold background with images of a Roman statue feeding another grapes.
The advert says that applicants "must have gorgeous hands and a basic grasp of Greek and Latin" and details the perks of the gig, which include "regular manicures" and the "finest food and wine".
---
Reader's opinions
---