---
Is a Hot Dog a Sandwich?
Written by Lola Narawa on March 14, 2022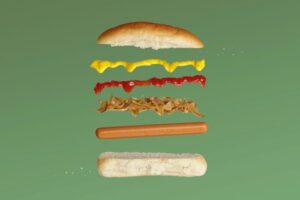 What is a sandwich?
Two important definitions likely sparked the "is a hot dog a sandwich?" conversation. Merriam-Webster dictionary defines a sandwich as "two or more slices of bread or a split roll having a filling in between," as well as "one slice of bread covered with food." (That second bit helps make sense of open-faced sandwiches but also opens the door for yet another quandary: Is pizza a sandwich? That's an even more controversial topic with no definitive answer.)
Why is it called a hot dog?
Also disputed is how the wiener came to be called a hot dog. The most likely scenario, according to the NHDSC, is that it started with ol' Johann's canine-inspired nickname for the long, skinny frankfurters. It travelled to America with Germans in the 1800s and then got anglicized over the years.
The word "hot dog" started appearing in college magazines in the 1890s. In 1894, there's a record of "dog wagons" selling hot dogs to dorm dwellers. And there was a joke about what the meaty tubes were made of.
But there is another story about how the tern was coined—it's more fun to tell though likely made up. In that recounting, vendors were selling hot dogs at the New York Polo Grounds in 1901 and saying things like, "Get your dachshund sausages while they're red hot!" Supposedly, a popular New York Journal cartoonist, Tad Dorgan, witnessed the scene and drew a cartoon with barking sausages in rolls. He didn't know how to spell "dachshund," so he simply called it a hot dog.
Why is a hot dog technically a sandwich?
According to the official definition, a hot dog is a sandwich. Using loose interpretations of the USDA's definitions, Rich Hope, chief marketing officer at sandwich chain Jersey Mike's, says, "There are many ways to do sandwiches, [so] sure, hot dogs can be sandwiches. [Just] not sub sandwiches."
Because a hot dog is a meat flanked by bread and smeared with condiments like ketchup and mustard, which sounds a lot like a sandwich, it's easy to see why people in this camp have a leg to (hot dog) stand on. It's also why over at Applegate—a company that offers lunch meat, American Cheesesingles for sandwiches, and some of the best hot dogs on the market—employees relish the opportunity to regularly debate whether a hot dog is a sandwich.
Why is a hot dog not really a sandwich?
While most experts were hesitant to put their foot down on one side of the debate, those in favour of letting the dogs out of the sandwich category were far more adamant.
It's a matter of bread
Mittenthal also argues that to qualify as a sandwich there must be a bread component. "It's called a hot dog when it's on a bun. It's called a hot dog when it's not," he says. "The bun is irrelevant to the nature of the hot dog; therefore, it is not a sandwich."
It's a matter of history
McCann points out that it's an issue of semantics. "The sandwich was supposedly invented in 1762 by John Montagu, the fourth Earl of Sandwich. He requested that sliced meat be placed between two slices of bread, which he could eat with his hands. That is not the definition of a hot dog," McCann says. "What's more, if the sandwich was invented in 1762, why wouldn't they have called the hot dog a sandwich when it was invented 100 years later, if it was a sandwich?"
So there we have it. It cannot be called a sub or sandwich because the hotdog is a different thing altogether.
---
Reader's opinions
---