---
ICE CREAM TOPPED WITH SUN DRIED FISH AND CHILLIE
Written by Lola Narawa on December 12, 2022
Located in Cape town South Africa "Tapi Tapi" is a locally owned ice-cream parlor . They specialize in making authentic Ice-cream that stays true to the African palette .
Zimbabwean molecular biologist Tapiwa Guzha is creating ice cream flavors like no one else.
Walking  through his ice cream shop, the ingredients he'll be playing with today are sprawled out like a smorgasbord. Red finger millet, found across the continent ("earthy and nutty," he says). West African sun-dried black eyed pea greens and a legume called tiger nut. From East, Central and Southern Africa there is sun-dried, salt-cured kapenta fish, known as Matemba ("salty, moderate fish flavor"). From Southern Africa he's chosen dried Mopane caterpillars, a local favorite ("chewy, crunchy and nutty"). All of these will soon be turned into ice cream flavors that are sure to surprise, shock, delight and maybe even disgust.
"I don't really do the traditional idea of flavor pairings," he explains. "I make what I like and see what comes out. So I can literally combine any of these with whatever takes my fancy."
Here are some of the ingredients that uses in his ice-cream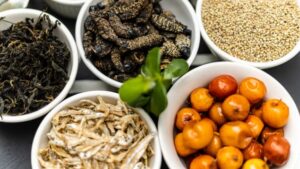 I'm pretty sure that the ice-cream taste itself will be quite the surprise to the palette
---
Reader's opinions
---