---
GENDER SWAP DAY AT LEGEND FM
Written by Ateca Tukana on March 11, 2022
Every year on the 8th March we celebrate International Womens Day. This year's theme is "Gender equality today for a sustainable tomorrow" with the hashtag break the bias. 
At Legend FM we had a week-long celebration with different activities for every day in order to spark the conversation about breaking the bias. We went from station T-shirt Tuesday with a treat, to break the ice-cream activity and wrap it all up with Gender Swap Friday.
Gender Swap Friday was a day to dress up and challenge the bias by swapping roles for a day. Coming to work wearing an item of clothing or accessory of the opposite sex followed by a session with the Fiji Womens Right Movement where they talk to us on issues.
So I promised photos and this is what I could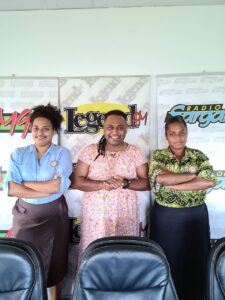 The Legends from left to right: Victoria Vollmer (LegendFM Content Director), Pate Narawa, Ateca Tukana
I managed to get some other gang around the office too!!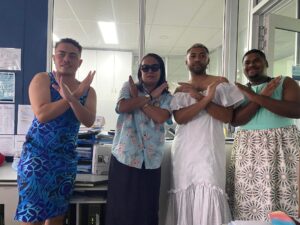 Let's start the conversation and break the bias!
---
Reader's opinions
---