---
27 YEAR OLD HIOLDS TITLE FOR THE MOST FLESH TUNNELS
Written by Lola Narawa on October 11, 2022
Now there is a first for everything and today was the first for me to hear about flesh tunnels.
27 year old James Gross hold the Guinness Record book title of the most flesh tunnels on a human body.
James, from Bedford, Bedfordshire, has always been a fan of flesh tunnels and started getting the giant piercings when he was only 14-years-old – and over the years he had amassed ten of them, in his ears, nose, and cheeks. He then discovered that the World Record for flesh tunnels was only 11, so he thought he'd get a few more and become a record holder.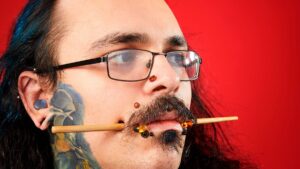 .
Body Modifications seems to be the "in thing" right now.
---
Reader's opinions
---