---
'A billionaire and a millionaire asking YOU to donate YOUR money?
Written by Lola Narawa on September 10, 2023
Dwayne Johnson and Oprah Winfrey have been criticized by fans for asking for donations to their Maui relief fund, with many suggesting the celebrity duo solely contribute to the fund.
The pair recently launched the relief fund to aid local residents affected by the Lahaina wildfires that devastated large sections of Maui, Hawaii.
After deadly wildfires swept through the island in August, Maui's infrastructure was left devastated, and so were families and residents who lost loved ones, neighbours, and friends.
In light of the tragedy, Winfrey and Johnson took to Instagram and TikTok on 31 August to reach their millions of followers, and in a video of the pair standing side-by-side, they introduced their new collaboration: The People's Fund of Maui.
They said that their relief fund was intended to raise money for Maui residents who had been affected by the tragedy. In the video, the pair cited Dolly Parton and her philanthropy as an inspiration for their new venture. They claimed that, because people were confused about how to help Maui residents, they sought to create a fund that would "directly" provide residents with relief.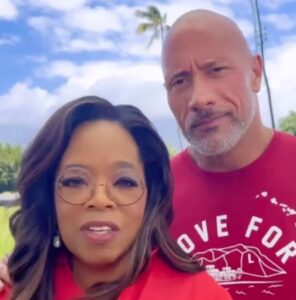 In the lengthy caption, the pair wrote: "We're honoured to announce the People's Fund of Maui, a fund putting money directly in the pockets of those who were affected by the recent wildfires. As we have seen firsthand, the impacts of these wildfires have been devastating, and we're here to ensure with 100 per cent guarantee that your donations will go directly into the hands of Lahaina residents."
One user wrote in the video's comment section, "Girl you got some nerve asking us working class people who can barely afford to put food on the table for our families to donate…why don't you ask your millionaire/billionaire buddies to help."
Source: https://www.independent.co.uk/life-style/oprah-winfrey-dwayne-johnson-maui-fund-b2405599.html
---
Reader's opinions
---